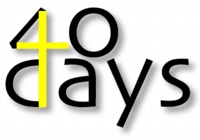 After his suffering, he showed himself to these men and gave many convincing proofs that he was alive. He appeared to them over a period of forty days and spoke about the kingdom of God. - Acts 1:3
"40 Days: Resurrection to Ascension" is the title for a Rock Opera based on the events following the resurrection of Jesus Christ, until the day of his ascension (with a postlude for the Pentecost). The world premiere by How Majestic was on May 6, 2001, at Calvary Lutheran Church, Rio Linda, California.
A new expanded production is being pursued, with additional songs, expanded arrangements, a larger cast and a whole lot more. No debut date is set for the new production. If you are in the Sacramento Lutheran community and would like to participate in this exciting project, please contact 40Days@rocemabra.com or call Roger Linder at (916) 223-2966.

Follow along on its continued development by visiting the news site.
The music is derived from a previous work by Roger Linder, "Only Golden Fingers Could Play So Heavy." The "40 Days" theme will be further explored in "The 40 Days Project."