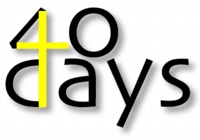 After his suffering, he showed himself to these men and gave many convincing proofs that he was alive. He appeared to them over a period of forty days and spoke about the kingdom of God. - Acts 1:3
"40 Days: Resurrection to Ascension" is the title for a Rock Opera based on the events following the resurrection of Jesus Christ, until the day of his ascension (with a postlude for the Pentecost). The world premiere by How Majestic was on May 6, 2001, at Calvary Lutheran Church, Rio Linda, California.
The music is derived from a previous work by Roger Linder, "Only Golden Fingers Could Play So Heavy." The "40 Days" theme will be further explored in "The 40 Days Project."